There are endless adventures in the Upper Peninsula of Michigan. From east to west, north to south, in the summer, winter, fall and spring, there is an abundance of "Get Outside & Play" possibilities. But there is one adventurers' playground that is as far North in Michigan as you can go, and that is Isle Royale National Park. We had the opportunity to fulfill a bucket list item and travel for the first time to Isle Royale. Here is our adventure: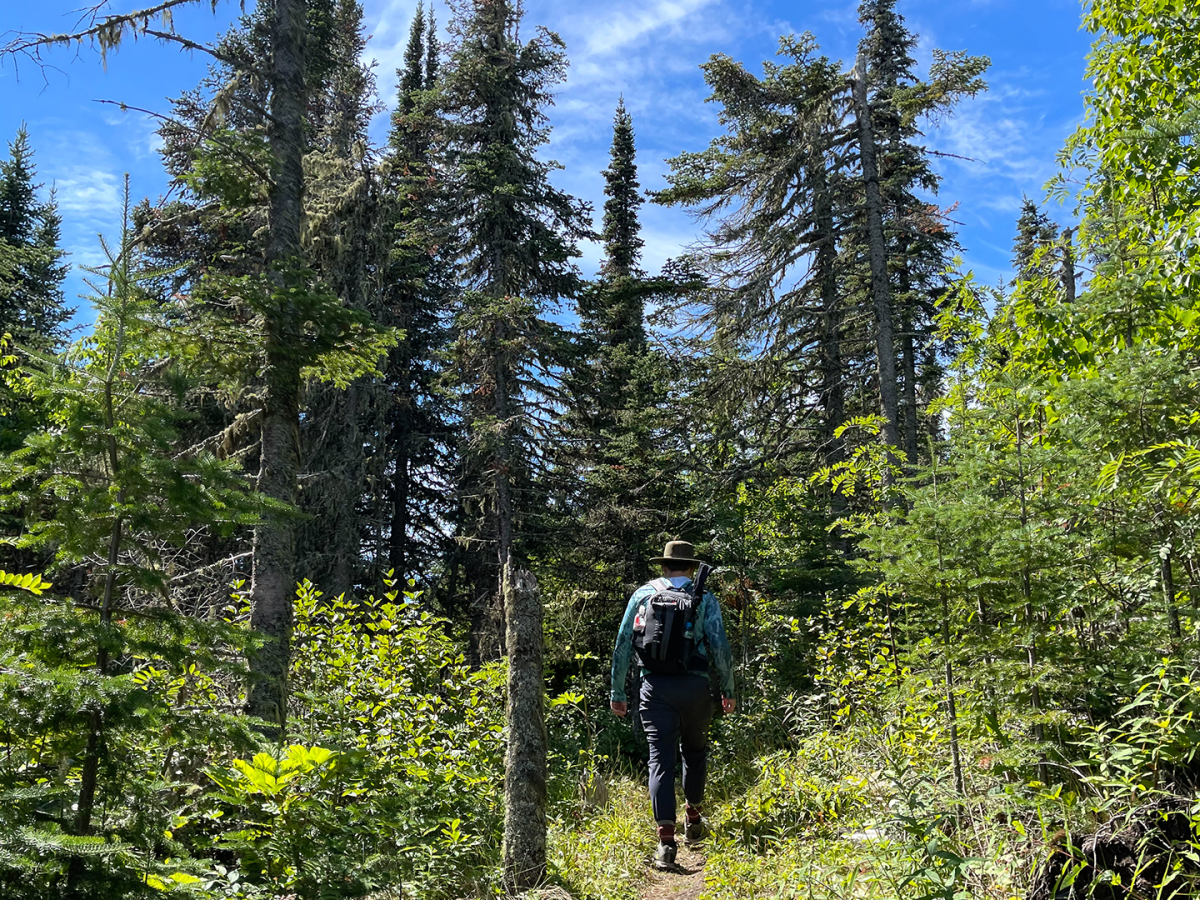 How we got to Isle Royale National Park
One of the most frequently asked questions is how to get to this remote national park. Since this was our first time, we had the same question when we started planning. We researched the options and determined what fit best for our trip and itinerary. We decided to fly in with Isle Royale Seaplanes from the Keweenaw Waterway and ride to Copper Harbor on the passenger ferry Isle Royale Queen IV. Many people take the same form of transportation both ways, but this made the most sense for our plans. 
During the season when the national park is open to visitors, the Isle Royale Seaplanes service makes multiple trips per day while the Isle Royale Queen IV leaves Copper Harbor each morning and returns from the island in the afternoon. Another option is to take The Ranger, a large vessel operated by the National Park Service. It departs from Houghton twice per week. Each form of transportation has different requirements for weight limits so we considered those in making our final choice.
Where we stayed on Isle Royale 
Many people spend their time hiking from one end of Isle Royale to the other over multiple days. Some people plan different routes and return to where they started. Our plan comprised staying in Rock Harbor at the Rock Harbor Lodge and doing day-long adventures before returning to Rock Harbor for the night. 
Day 1: Took the fastest transportation to Isle Royale to maximize our adventure time
With the planning phase behind us, it was time to go. We arrived at Isle Royale Seaplanes excited to get to Isle Royale. The adventure started as soon as we boarded the plane and took off over the iconic Portage Lake Lift Bridge. Within about 25 minutes, we could see Isle Royale in the distance. This is when we could see that it is an archipelago made up of over 400 islands. The views were incredible! The seaplane made its way to Tobin Harbor and in just about 35 minutes total, we arrived on Isle Royale. (Boat travel takes three to six hours.)
We made the quick walk to Rock Harbor Lodge to get checked in. It is the only hotel on Isle Royale and has rooms that overlook Lake Superior as well as cottages, dining, a marina and a trading post. The lodge offers tours aboard an awesome vessel named The Sandy, boat rentals, canoe rentals and kayak rentals. During our first evening, we saw people getting prepared for their backpacking adventure and others who were just finishing the multiple-day trip from the other end of Isle Royale, which is Windigo.
As we built our plan for our stay, we knew we wanted to do a lot of hikes. After all, that is what Isle Royale is known for. We planned hikes for each day but also wanted to take advantage of staying at Rock Harbor Lodge and the other great things to do there. 

First Isle Royale adventure — explored Rock Harbor by boat
Since the weather was perfect, we rented a boat with a 15-horsepower motor and cruised through Rock Harbor. We docked our boat at the Edisen Fishery and made our way to the historic Rock Harbor Lighthouse. There, we went inside to see the exhibits showcasing Isle Royale's maritime history. Then, we took the boat to Raspberry Island, which was visible from our window at the lodge, for our first daily hike. 
Day 2: Paddled in the morning to see Isle Royale's wildlife; took a guided tour to Passage Island in the afternoon
Today we traded the motorized boat for a canoe to head out to Tobin Harbor. The weather was perfect for paddling and the harbor offers a lot of protection from the wind. It was such a peaceful setting. A favorite part of being out on the canoe was watching the loons. After paddling through the area, we hiked to the stunning Lookout Louise, where we could see the northern side of the island and Canada in the distance. 
Had the thrill of a lifetime! 
Next up was a highlight for us. We saw a moose! We had never seen a moose in the wild, so this was something we had hoped for. The moose was in the water on the side of a lake and hung out for about 20 minutes while we watched. The whole experience was amazing, as moose are such a big part of the wildlife on Isle Royale. We were happy to witness one in such a scenic place. We hope on your first visit to Isle Royale that you will, too.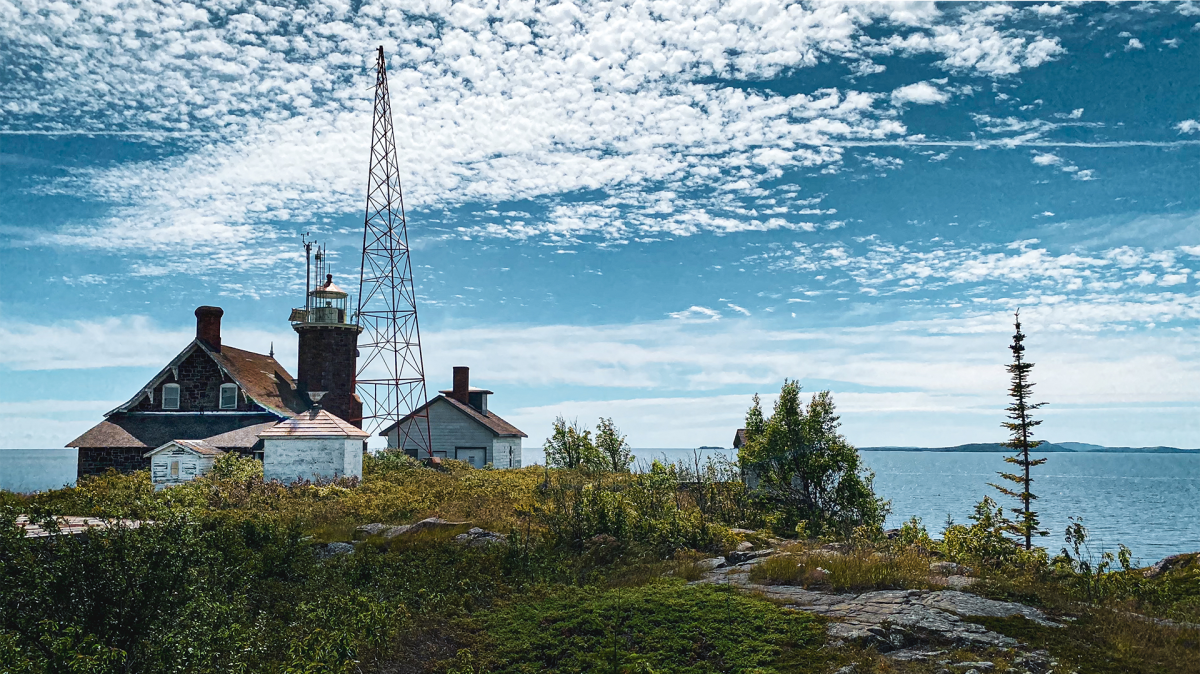 Learned a lot about Passage Island and its lighthouse
In the afternoon, we returned to the lodge and boarded The Sandy for a guided tour out to Passage Island and the Passage Island Lighthouse. The boat ride was great, as we could relax and take in the scenery of Isle Royale from another angle. The captain shared a great amount of information about Isle Royale and Passage Island. As we approached the island, we were able to see the star of the cruise, the Passage Island Lighthouse sitting up on the rocky shoreline.
Once The Sandy docked, we made the one-mile rugged hike out to the lighthouse. A unique aspect of Passage Island is that there are no moose, so the vegetation is thick, which makes for a unique hiking experience. In two days, we visited two of the more remote lighthouses in Michigan!
Day 3: Dedicated today to hiking Isle Royale
In our planning, we reserved this as our trails day. We wanted to explore all over the Rock Harbor area, so we grabbed a to-go lunch from the lodge, loaded up on water and set out for a day of hiking. Knowing that this was our final full day, we made sure to take our time and enjoy the scenery. One of our favorite parts about this hike was passing backpackers who were often finishing their 40+ mile, multiple-day hike from Windigo to Rock Harbor. 
The evening consisted of another hike, this time along the Stoll Memorial Trail and Scoville Point. Our 10+ miles of hiking was a great way to spend our final day on Isle Royale. That night, we enjoyed a perfect ending to our day sitting on the patio overlooking Lake Superior. 
Our first-time visit to Isle Royale National Park was outstanding 
As we look back on our first trip to Isle Royale National Park, we realize how important it was to start with good planning and to make those plans as early as possible. The seaplane trip was a great way to see Isle Royale from above. Rock Harbor Lodge with all of its amenities was a good base for our adventuring and we couldn't have seen all that we did without the boat rentals, canoe rentals and tours on The Sandy. Our return trip to Copper Harbor aboard the Isle Royale Queen IV was perfect and we were able to ride up front on the bow on our voyage across Lake Superior to the mainland. 
This was our first visit to Isle Royale, but it will not be our last. We have already been discussing things we want to do during our next visit.