Kitch-iti-Kipi: Michigan's Largest Natural Freshwater Spring
If you're looking for a breathtaking detour on your journey through the Central Upper Peninsula, you can't skip over Kitch-iti-Kipi or the "Big Spring." Nicknamed "Mirror of Heaven'' by ancient Chippewas, this must-see site reflects its surroundings year-round on crystal-clear waters.
Here more than 10,000 gallons of vibrant, aqua-colored water erupt each minute from the fissures in the limestone base 40-feet below. The water maintains a constant 45 degrees Fahrenheit year-round, never freezing during the cold Michigan winters. Looking into the water's depths, you'll find ancient tree trunks, fat trout, lime-encrusted branches and clouds of sand.
Located in Palms Book State Park 12 miles from Manistique, visitors ride the 200 feet across the spring via a self-propelled observation raft. Children enjoy turning the wheel to crank the raft along while riders observe the beauty around them. The o-shaped raft has fencing around the center opening so visitors can look down into the transparent waters as they're gliding across. Kitch-iti-kipi is an ADA-accessible attraction; both the trail leading to the raft and the raft itself are wheelchair friendly.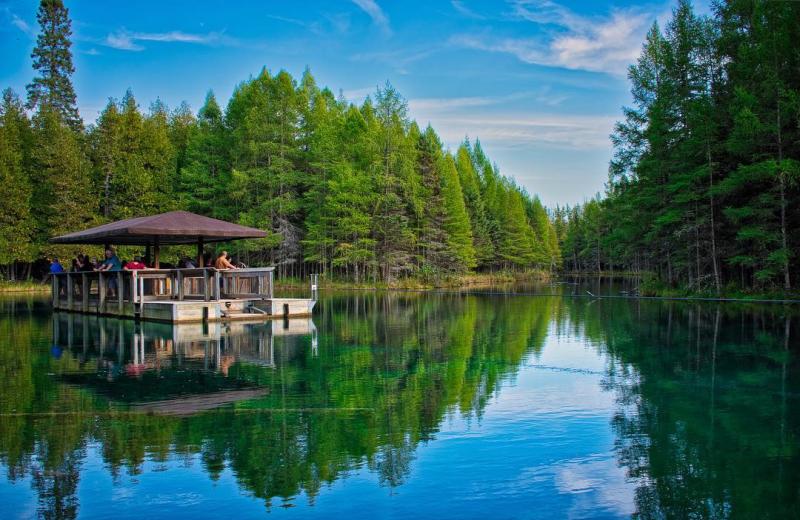 The state park is open 8 a.m. to 10 p.m. daily and there is no charge to ride the Kitch-iti-Kipi raft. Visitors, however, will need a Michigan recreation pass to enter the state park. No fishing or swimming is allowed, but occasionally, park rangers will steer the raft and feed the fish so visitors can take photos of them closer to the surface.
Be sure to take pictures on your ride and stop at the concession area for souvenirs, snacks and picnic supplies. Palms Book State Park has several picnic tables, grills, ample parking and modern bathroom facilities.
What better place to reflect on the Upper Peninsula's beauty than the place where beauty is reflected all around you? Swing by Kitch-iti-Kipi.