Find the best places to visit in Michigan's Upper Peninsula
Michigan's Upper Peninsula consists of three regions each full of exciting adventures, fascinating history and gorgeous natural wonders like waterfalls and vistas. Whatever you are looking for in a vacation, you'll find it within our borders. The peninsula may feel overwhelmingly large, but don't worry. That just means there is always another vacation in the future to explore something new! To start planning, these are some of the best places to visit in Michigan's Upper Peninsula in each region. Have fun!
Central U.P.
Pictured Rocks National Lakeshore: Pictured Rocks is the first designated national lakeshore in the United States (established in 1966). It is one of only three in the country!
Marquette: Marquette is the U.P.'s largest city with a good mix of culture and wilderness.
Pine Mountain Ski Jump: The Pine Mountain Ski Jump is the largest artificial ski jumping hill in the world and home to the longest-running competitive ski jumping tournaments in North America.
Bays De Noc: Over 1,000 acres of water on this freshwater shoreline.
Fayette Historic State Park: Discover one of the iron smelting boom towns that went bust. Many original buildings are still here in this ghost town.
Kitch-iti-Kipi: Ride a raft over Kitch-iti-Kipi, the state's largest natural freshwater spring, in Michigan's Upper Peninsula in any season.
Seney National Wildlife Refuge: This 95,238-acre wilderness is home to a variety of species year round in the refuge's forests, marshes, pools, creeks, rivers and bogs.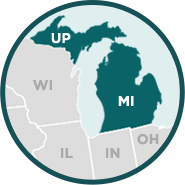 Western UP
IMMERSION INTO NATURAL BEAUTY
Traveling throughout Michigan's Upper Peninsula is an immersion into natural beauty and the history of people determined to build a good life from the untamed land and the Great Lakes that surrounded them. But the Western U.P. has a distinctive brand of grit built from its tree-covered mountains, expansive wilderness and veins of copper and iron.
Central UP
Gorgeous Shorelines, Intriguing History
Whether you come from the east or west, the heart of the Upper Peninsula is not a pass-through. You can easily fill months, exploring the Central U.P.'s beautiful Lake Michigan and Lake Superior beaches and bays, stunning wilderness, crystal-clear inland waters and the historic communities that have welcomed travelers for centuries.
Eastern UP
Let the adventures begin
Up here, vacation begins when you cross the Mighty Mackinac Bridge. Hovering halfway over Lake Michigan and Lake Huron, your adventure starts to the soundtrack of the bridge's rattling grates below you. When you arrive, you'll land in the Eastern Upper Peninsula.