Counties of the Upper Peninsula
The Upper Peninsula of Michigan is made up of fifteen counties that are common in their wealth of beauty and tranquility, yet uniquely individual in their offerings to the visitor. What ever you may seek to fulfill that vacation of your dreams can be found within our borders.
Our County section has been created to give you the ability to search for your choice of attractions, places to stay, recreation, shopping and dining by both a County and a city search.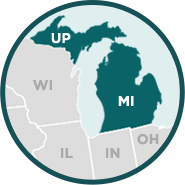 Western UP
Immersion into Natural Beauty
Traveling throughout Michigan's Upper Peninsula is an immersion into natural beauty and the history of people determined to build a good life from the untamed land and the Great Lakes that surrounded them. But the Western U.P. has a distinctive brand of grit built from its tree-covered mountains, expansive wilderness and veins of copper and iron.
Central UP
Gorgeous Shorelines, Intriguing History
Whether you come from the east or west, the heart of the Upper Peninsula is not a pass-through. You can easily fill months, exploring the Central U.P.'s beautiful Lake Michigan and Lake Superior beaches and bays, stunning wilderness, crystal-clear inland waters and the historic communities that have welcomed travelers for centuries.
Eastern UP
Let the adventures begin
Up here, vacation begins when you cross the Mighty Mackinac Bridge. Hovering halfway over Lake Michigan and Lake Huron, your adventure starts to the soundtrack of the bridge's rattling grates below you. When you arrive, you'll land in the Eastern Upper Peninsula.