Map of the Upper Peninsula
Three regions, one big year-round playground
Anyone that has ever come to the Upper Peninsula — and it doesn't matter what your entry point is — will tell you the same thing. Cross into the Upper Peninsula and you will feel different almost instantly. Something deep within you stirs, your tensions dissolve and your spirit of adventure soars wherever you go. 
This interactive map highlights some of the most loved places in each of our three regions. They will be your jump-off points to many more reasons to stop along our Great Lakes shorelines, in our untamed wilderness and our fun-loving communities. Click on the map pins to see where you will go on this trip. It will make planning your visit that much easier.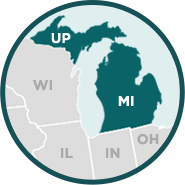 Western UP
IMMERSION INTO NATURAL BEAUTY
Traveling throughout Michigan's Upper Peninsula is an immersion into natural beauty and the history of people determined to build a good life from the untamed land and the Great Lakes that surrounded them. But the Western U.P. has a distinctive brand of grit built from its tree-covered mountains, expansive wilderness and veins of copper and iron.
Central UP
Gorgeous Shorelines, Intriguing History
Whether you come from the east or west, the heart of the Upper Peninsula is not a pass-through. You can easily fill months, exploring the Central U.P.'s beautiful Lake Michigan and Lake Superior beaches and bays, stunning wilderness, crystal-clear inland waters and the historic communities that have welcomed travelers for centuries.
Eastern UP
Let the adventures begin
Up here, vacation begins when you cross the Mighty Mackinac Bridge. Hovering halfway over Lake Michigan and Lake Huron, your adventure starts to the soundtrack of the bridge's rattling grates below you. When you arrive, you'll land in the Eastern Upper Peninsula.