Thrill-seekers, here are the best ATV trails in the U.P.
If you love adrenaline-surging, bone-jarring, mud-spattering, white-knuckle off-roading, bring your baddest ATVs and ORVs to Michigan's Upper Peninsula. Our wilderness terrain is screaming to see how far it can push your fun. And wherever you ride, you are in for some of the most jaw-dropping scenery you've ever seen. Get your freedom machine here so we can prove it.
Know before you go ATVing in the Upper Peninsula
Purchase a valid ATV/ORV license and/or trail permit.
A valid ORV license is required to ride on eligible county roads, the frozen surface of public waters, state forest roads open to ORV use and eligible national forests. 
A valid ORV trail permit is required to ride on state–designated ORV trails and scramble areas.
Both the ORV license and trail permit are valid for one year, beginning April 1 and ending March 31 of the following year. LEARN MORE 
Operators younger than 16 years old need to take an ORV safety course.
Any ATV operator under 16 years old must complete an approved ORV safety course and carry the safety certificate when riding on public and private land in Michigan. On the trails, they must also be under the direct visual supervision of an adult at all times. LEARN MORE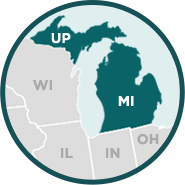 Where to rent ATVs/ORVs in the Upper Peninsula
Never been off-roading? Going riding with a group of friends but you need a machine? We can get you kicking up the dust and mud. Check in advance with the communities near the trails you'll be riding and ask where you can rent an ATV or ORV. Here are a few suggestions:
Beaver's ATV Rentals, Drummond Island
Copper Country Rentals, Calumet
Munising Motor Sports, Munising
Paradise Recreational Sports, Paradise
Timberline Sports, Bergland
Trail Side Rentals, Grand Marais
Where to ride your ATV/ORV in the U.P.
The Upper Peninsula is an off-roader's paradise! With thousands of miles of amazing terrain, you can play outside in the dirt for hours. Test your grit on twisty single tracks, through mud-slinging bogs and breath-holding rocky climbs and harrowing descents. Show your mettle on these trails:
Come for FREE ATV/ORV weekends and events
As you plan your trip to the U.P., check our events calendar for our annual ATV/ORV events. Mark your calendar for the state's two FREE ORV Weekends when Michigan residents and out-of-state visitors legally can ride DNR-designated routes and trails without purchasing an ORV license or trail permit. 
Mid-June: FREE ORV weekend
Mid-August: FREE ORV weekend
Late September: Trek the Mighty Mac
Where to stay and eat in the Upper Peninsula
As you plan your off-roading adventures, you will discover there are plenty of lodgings, campgrounds, restaurants, beer pubs, wineries and distilleries not far from your favorite trails. You can even ride up to their front doors! 
Check with each community for a list of lodgings, campgrounds and restaurants that are close to where you'll be riding. No matter where you take a break along the trails, you'll be greeted with warm smiles. We love off-roading in the U.P., too!
Where to get handcrafted beverages
Share your photos of off-roading in the U.P.
We would love to see photos of your ORV adventures in the Upper Peninsula! Use our hashtag #uptravel for an opportunity to be featured on our social media, website or in our marketing materials. You can also upload your photos to our Winter Photo Crowdriff Collector below.