Imagine how difficult it must be for your children to contain all of their youthful energy while being stuck inside the house this winter. In the Upper Peninsula, our kids don't stop having fun outdoors this time of year. Instead, it ramps up because winter transforms the U.P.'s landscape into a wonderland ripe for adventure. Plus, the fun factor so enthralls children they don't even notice the chillier temperatures nipping at their noses. 
Here are six kid-friendly, energy-releasing winter activities that will capture your children's attention and entice them away from their phones and tablets. For you, they will make it easier than ever to plan a family vacation. Let's get started:
1. Snowshoeing in Presque Isle Park, Marquette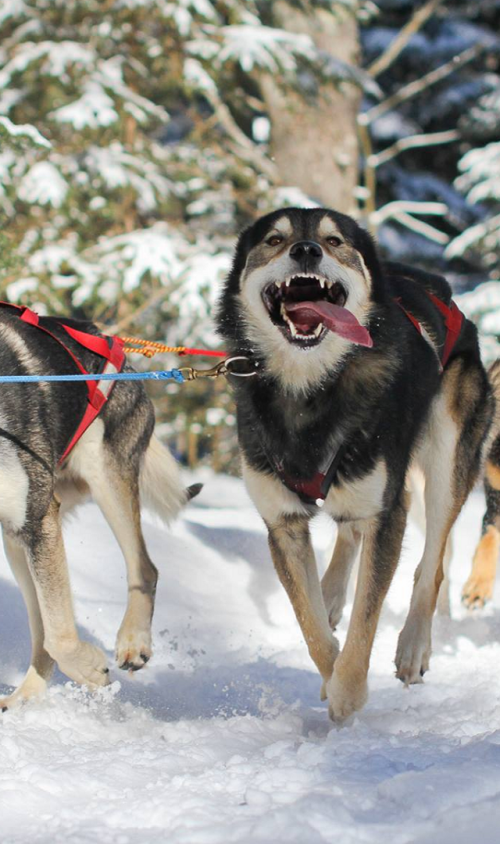 Kicking off our list is a snowshoe hike around this park that juts into Lake Superior. It offers some of the best scenery in the Marquette area. During the winter, the roads through Presque Isle Park are closed. This makes it the perfect time to traverse the park on foot without the worry of cars. Bring or rent some snowshoes and start exploring. The breathtaking views, wildlife and crunching of snow underneath your snowshoes will surely make for a great winter adventure.   
2. Nature's Kennel Sled Dog Adventures, McMillan
What better way to give the kids a winter escape than with one of the U.P.'s more unique winter activities. Nature's Kennel Sled Dog Adventures, located in McMillan, offers up a variety of dog sledding packages including small group half-day trips, perfect for children. Nature's Kennel provides an educational and exhilarating experience while allowing your kids the chance to try out mushing their very own dog sled team. This adventure of a lifetime is unforgettable. Call 906-748-0513 to make a reservation.
3. Tubing at John & Melissa Besse Sports Park, Gladstone
Quite possibly a child's favorite thing to do in the winter, tubing (or sledding) at John & Melissa Besse Sports Park will keep the kids entertained for hours. Tubing at the park is only available on the weekends. You can choose from three different tubing runs. Each is equipped with rope tows so your kids won't have to lug their tubes back up the hill after their descent. If your kids are wanting to kick things up a notch, the park also offers downhill ski and snowboarding lessons.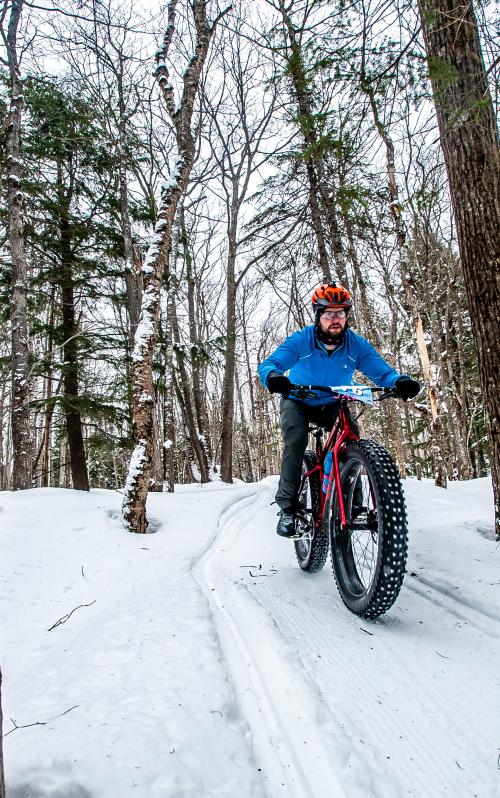 Snowy roads might have you thinking a nice family bike ride is out of the question. Think again! The recent rise of fat tire bikes has introduced year-round bike rides all across the U.P., however, Marquette lays claim to being the fat tire biking mecca. You and your kids can explore the beautiful downtown and over 60 miles of maintained single-track snow bike trails. After your children are tuckered out from riding, fuel up at one of Marquette's many delicious restaurants.
5. Exploring Fayette Historic State Park
This year-round townsite features more than 20 historic buildings from the mid-1800s. You and the kids will learn about the history of iron ore in the Upper Peninsula and why many of these 19th-century industrial communities are now ghost towns. Fayette not only offers up historical education but some breathtaking views which you can take in on foot, snowshoes or cross-country skis. Across the frozen harbor, you will see the limestone bluffs of Snail Shell Harbor. Some of the cedar trees growing on the shelves are 800, 900, even 1,400 years old, making them the oldest trees in any Michigan state park!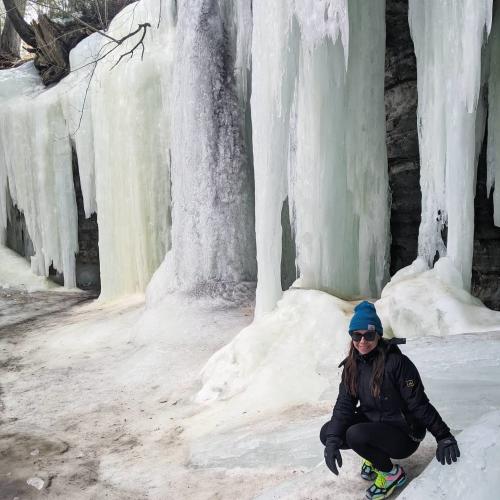 You'll want to make sure your kids are up for this one as it can be a bit slippery, but plan a trip here and you won't regret it. The Eben Ice Caves provide you and your kids with a wholly unique experience. A result of slow snowmelt runoff mixed with freezing temperatures creates a landscape straight out of the Arctic. Adventure into these ice caves and discover a land of frozen blue that will surely capture your children's imaginations. Plan ahead as the hike to the caves is about 0.75 miles and can be icy. If possible, we recommend renting or purchasing microspikes for your boots to help with traction. The trail is typically packed down so snowshoes are not necessary.
Providing children with fun activities may seem like a daunting task in the winter, but thankfully the U.P. is jam-packed with winter adventures that will keep the kids occupied. While this list only captures a handful of things to do, we recommend safely exploring as much of the Upper Peninsula as possible while you are here. A U.P. winter is an adventure all in itself.
For all things U.P., be sure to subscribe to our e-newsletter.