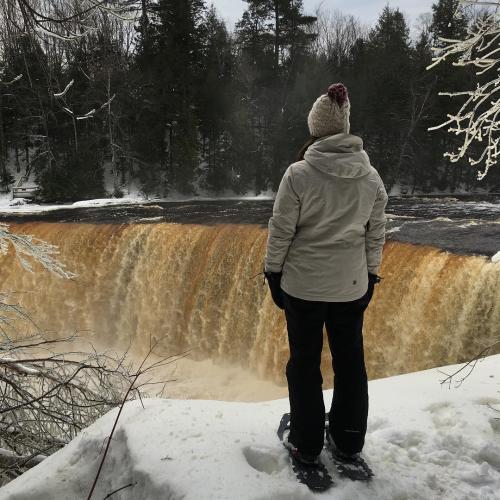 Snowshoeing is one of the most relaxing ways to explore Michigan's Upper Peninsula in the winter. It is a great form of low-impact aerobic exercise and perfect for young children to retirees. One of the best things about snowshoeing is the freedom that it affords you. You do not need a trail or groomed path, just six or more inches of snow, a little practice and you are ready to go. When you are here, there is no shortage of places to explore: tranquil wooded areas, sparkling ice-coated shorelines, towering frozen waterfalls, vast smooth frozen lakes and more.
Though you can go almost anywhere on snowshoes, for this list we are going to focus on the more established snowshoe trails. After a bit of practice on these you will soon be working your way up to more difficult adventures, blazing a trail of your own and exploring regions others seldom see in the winter.
Best places to snowshoe in the Upper Peninsula
Tahquamenon Falls State Park, Paradise
The entrance and parking lot are generally well maintained during the winter months. This gives you easy access to the main trails and views of the majestic frozen waterfalls.
Little Bay De Noc Trail, Escanaba
Located on the bay's northwest side, this 2.5-mile trail extends from Escanaba to Gladstone.
Valley Spur Snowshoe Trail, Munising
Explore hardwood forest, meadows and several small lakes on this varied system of trails.
Eben Ice Caves, Eben Junction
Wooded trails lead to the caves where you can explore impressive sparkling sheets of ice.
Presque Isle Park, Marquette
This park features quiet wooded trails and majestic views of Lake Superior.
Al Quaal Recreation Area, Ishpeming
There are several different well-marked trails with opportunities for a variety of skill levels.
Copper Harbor Pathway, Copper Harbor
Featuring miles of trails, you can explore Keweenaw's old-growth forests.
Michigan Tech & Nara Trails, Houghton
This trail system accommodates a wide range of skill levels.
McLain State Park, Houghton County
Enjoy a trek through the woods or enjoy icy formations along Lake Superior's rocky shoreline.
Fumee Lake Natural Area, Iron Mountain
Explore a variety of hilly trails with lovely views of the scenic wilderness.
What to bring for snowshoeing
To stay warm while snowshoeing, wear moisture-wicking fabrics which will draw sweat away from your skin. Also, pack a phone in case of an emergency, water, a compass, some snacks and a camera to capture the scenic beauty.
Plan your Upper Peninsula snowshoeing trip
Because these are popular areas for outdoor sports there is some etiquette to follow.  Check for trail designations, many parks have specific trails for different sports. Others have multi-use trails. Make sure you are on the part of the trail for snowshoes. If possible, avoid trails used by snowmobilers. Should you happen to end up on one, remember that snowmobiles have the right-of-way.
If traveling some distance to go snowshoeing in Michigan's Upper Peninsula, be sure to research lodging and dining options before heading out.