There is no better way to explore the awe-inspiring natural wonder of winter in Michigan's Upper Peninsula than on a fat tire bike. Float across the snow-covered landscape and indulge in the freedom to go almost anywhere. Enjoy rarely seen views of the Great Lakes' sparkling, ice-bejeweled shorelines. Glide down forested trails under dazzling snowy branches. Traverse across pristine snow-blanketed lakes. Fat tire biking will make you happier, healthier and more relaxed. Moreover, it will provide you with extraordinary photo opportunities others will wish to see.
Why Fat Tire Bike?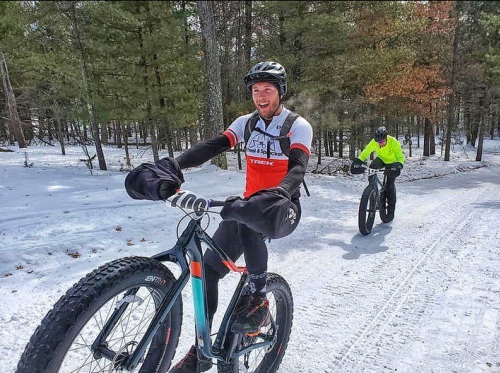 Because there's not much that can stop a fat tire bike, you can extend your riding season to all year-round. These bikes have wide tires that distribute the weight so you get improved grip and traction. This lets you easily ride over more challenging terrain than you can on a traditional mountain bike. On a fat tire bike, you can conquer rocks, sand, dirt, mud, snow, slush and ice. Even better than that, in the winter you can cover more ground than any other non-motorized means of human-powered transportation! 
These bikes have wider tires and many only have one gear which translates to a need for more muscle power. Therefore, if you want to give this sport a try be prepared for some exertion, sweat and challenge. Yet at the same time, the stability of the wider tires can make it less difficult to learn compared to a bike with skinnier tires. Though it is a workout, it is intuitive to learn and relatively easy to acquire the skill necessary. As a result, with some practice on a snow-packed flat trail, new riders will soon be cruising through the snow.
Things to know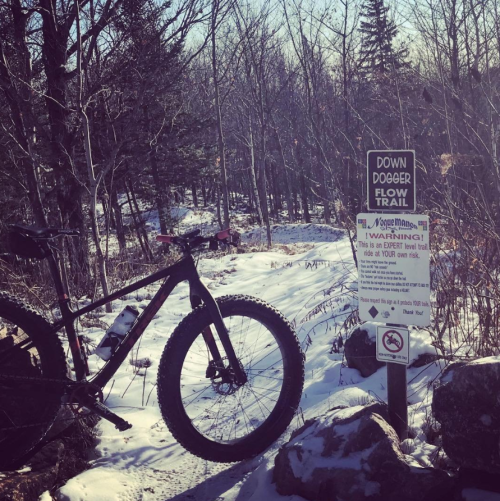 You will slide around
Sliding on the snow and ice is normal. It may feel weird and it takes a while to get used to it. As a result, you will likely fall while learning. That's why it is a good idea to start out on soft snow to cushion falls. Also, choose trails with smaller descents to get a feel for the movement and control of the bike.
Tire pressure
Air tire pressure matters a lot on these bikes. How well your bike will perform is directly related to your PSI and to find the perfect level is all about experimentation. As a general rule, you will be riding on tires at less than 5 PSI and if the ride is not good, lower the pressure. The "flatter'' the tires the more contact they have with the ground and the more traction you will have. With some trial and error, you will discover the ideal PSI for every condition.
What to wear
Like any winter sport, there's a balance to be found in your clothing choices. You want it breathable enough on ascents so that you do not sweat too much and at the same time warm enough on the descents to avoid getting cold. Luckily, today's scientifically engineered sportswear makes this quite possible. 
What to bring
As a precaution pack snacks, water, cell phone, area and/or trail maps, flashlight, bike lights, compass, fire starter kit, pocket knife and an emergency blanket. Also, for safety and companionship bring a friend; someone to enjoy the experience with and assist if help is needed.
Research where to go
Many parks have specific trails for different sports while others have multi-use trails. Additionally, be aware that some trails are one-way while others are two-way. Further, groomed trails often have rules regarding minimum snow depths, air temperature requirements, tire width restrictions and tire PSI stipulations. Also, be sure to check if the trail or park has a fee for use. Very importantly, always avoid trails used by snowmobilers and if you happen to end up on one, remember that snowmobiles have the right-of-way.
Expectations for distance
Overall you will not be traveling as fast as you would on a mountain bike on dirt but you can still move along at a good clip on packed trails. Speed is directly related to the snow conditions which are often ever-changing and can vary a lot. As a result, plan your winter trips to be shorter than they would be on a mountain bike in the summer.
Places to go
Because of the freedom that this sport affords there are too many options to list. Therefore, here are a few of the more well-known and established trails.
North Country Trail
This multi-state trail stretches across the Upper Peninsula from the Wisconsin state line to the Mackinac Bridge. Traveling the North Country Trail gives you access to a wide variety of terrain and scenery: waterfalls, lakes, rivers, Pictured Rocks National Lakeshore, Lake Superior State Forest, Hiawatha National Forest, Tahquamenon Falls State Park and a view of the mighty Mackinac Bridge. Many people use various sections of the trail so be sure to watch for hikers, skiers or snowshoers. Caution: there are long stretches of this trail that are extremely remote.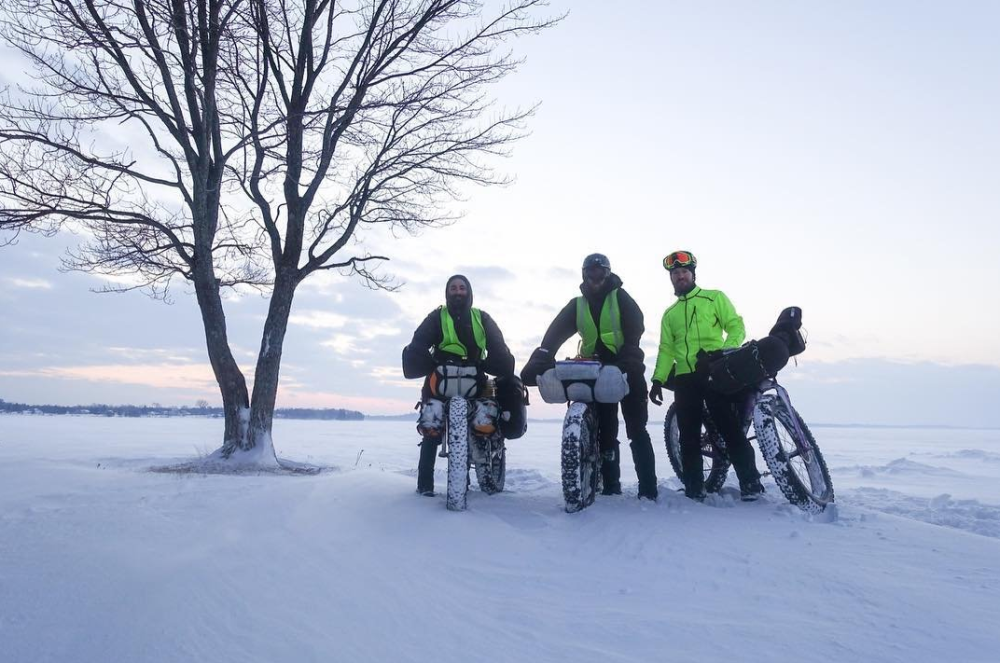 Copper Harbor Trail System
Located at the top of the Keweenaw Peninsula, these trails let you enjoy Lake Superior's coastline.
Michigan Technological University
Both beginners and more experienced riders enjoy several well-marked trails near the university.
Marquette, Michigan
Thanks to the dedication of local riders, Marquette has become the fat tire bike hub of the Upper Peninsula. As a result, the area offers some of the best-maintained trails found in the state. The top places to ride are the groomed single-track trails that are a part of the Noquemanon Trail Network.
Soo Strong Trail
Enjoy this 32-mile trail between Sault Ste. Marie and Eckerman. The trail mostly follows the abandoned rail corridor of the old Soo Line. The trailheads are either at Foss Street in Sault Ste. Marie or SR 123 at Sheldon Rd. in Eckerman.
Have questions about visiting the U.P. in the winter? We can help! Click here to help you plan your trip.