Michigan's Upper Peninsula is a dream destination for ice fisherman. There are over 4,000 frozen inland lakes in addition to ice-covered bays on Lake Superior, Lake Michigan and Lake Huron. With so many locations for quality ice fishing, the opportunities are abundant for finding your ideal spot. Popular species include walleye, perch, northern pike, whitefish, crappie, splake, bluegill and trout.
When to Ice Fish
The fishing season typically starts around December and extends to March, though occasionally it lasts as late as April. The Upper Peninsula is generally cold enough for reliable ice-making; however, it is imperative to be very cautious and pay attention to ice conditions as they can change quickly. If you are new to an area be sure to watch what other anglers are doing and/or visit local tackle shops for advice. Keep in mind that during milder winters, some areas may not be accessible especially on or near moving bodies of water (such as the mouths of rivers or streams) and the Great Lakes.
If traveling some distance to fish in Michigan's Upper Peninsula, be sure to research lodging and dining options before heading out.
Where to Ice Fish
There is an abundance of fishable lakes and bays but some are more popular than others. Here are seven sweet spots to go ice fishing: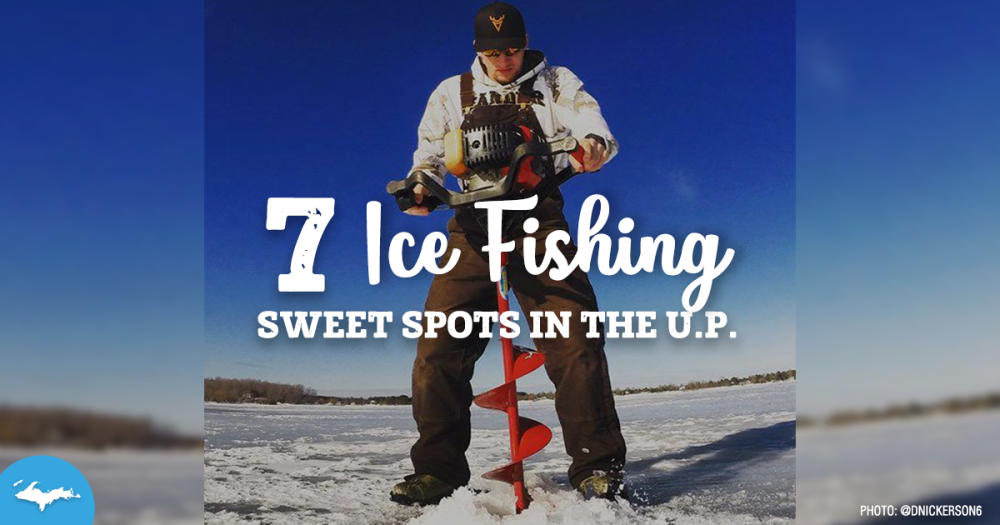 Drummond Island in Chippewa County
This is one of the premier perch-fishing locations in the Upper Peninsula. Potagannissing Bay is the most well-known location near the island. Be prepared to move around a bit to find where the fish are biting. In some locations, the water is clear enough you might even be able to look into the hole and see the lake bottom and fish.
Munuscong Bay in Chippewa County
A popular access point to this bay is Conley Point. From there, look for the groups of anglers that are generally spread throughout the bay. The average water depths in the bay range from 6 to 12 feet. Monster muskellunge have been caught here as well as sizable walleyes, perch and northern pike. Be sure to use extreme caution when fishing this location as it is a shipping channel.
Big Manistique Lake in Luce/Mackinac Counties
This approximately 10,000-acre inland lake is popular for walleyes, yellow perch and northern pike. There are multiple public access sites on the south and east sides of the lake.
Munising Bay in Alger County
This bay on Lake Superior is very popular for splake, coho, lake trout, whitefish, perch and smelt. Many anglers fish near Sand Point, Murray Bay, the West Channel and near the marinas.
Little Bay de Noc in Delta County
This bay on Lake Michigan is famous for walleyes, northern pike, perch, splake and whitefish. Due to the better ice conditions, it is recommended to fish near Gladstone or Kipling. The best perch and walleyes come from areas with 10 to 25 feet of water.
Cisco Chain of Lakes in Gogebic County
This location consists of 15 lakes many of which are spring-fed and contain islands.  The area boasts excellent fishing for walleyes, northern pike, muskies, bass and a variety of panfish.
Lake Gogebic in Gogebic/Ontonagon Counties
This approximately 13,000-acre inland lake is famous for its walleye fishing but is also a great location for northern pike, smallmouth, black crappie and yellow perch.
Ice Fishing Tips
Before you go on the ice
Dress in your warmest clothes. Wear thick socks and warm boots. Pack snacks, hot chocolate, tea or coffee. In addition to your fishing gear, bring a cell phone, life jacket, flashlight or battery-operated lantern and ice picks. You'll want an empty bucket, lawn chair or stool to sit on as well.
Pick a suitable vehicle
Because of the vast expanses of available fishing areas, many people choose to use snowmobiles or four-wheelers, and at times, even cars and trucks to access their favorite fishing spots. Of course, be sure that ice conditions are suitable for the vehicle of your choice. It needs to be 5 to 7 inches thick to drive a snowmobile or ATV to your spot.
No ice is 100% safe.
Check ice constantly with a spud bar and a tape measure. Stay off discolored, dark or slushy areas. Also, never fish alone. Make sure someone on land knows where you are going and when you expect to be back home.
Ask the locals
When new to an area be sure to stop by a local tackle shop to purchase live bait and ask about the best location for the species you are after.  Also, inquire about which lure types or colors are currently working best.
Try trolling
Sometimes, it is best to move around. If fish are not biting in your first spot, move to another. Better yet, troll. Though normally associated with fishing on open water, trolling is a method that can work extremely well on ice. Make a series of holes in a location and sequentially move through them. Some people recommend placing a row of holes spaced about twenty feet apart or so. If working with other anglers try creating rows at different depths or targeting different types of structure.
Feel the weight
Be sure you can feel the weight of your lure. If your setup and line don't match the weight of your lure, you may miss a catch especially for species that have a subtle bite.
Pick the right time
Learn when the species you are targeting tend to bite best. Many people believe early morning, late afternoon and early evening are best but do some research and maximize your chances.
Be lively
Walleyes, perch, trout and crappie all love lively minnows, jigs and spoons. You will need to adjust the size of all of these to accommodate the size of the targeted species. Movement to varying degrees is key for many fish species. 
Use a lighter line
For many panfish and whitefish be sure to use a light line, something around the four-pound range or lighter. Waxworms on a small teardrop are very popular and, for whitefish, you might try a single cured salmon egg.
Try a Tip-up
Tip-ups are great for pike. Live large minnows are the most popular fishing method though some prefer rods or spears.
Bring a shanty
A sure sign of ice fishing season is the appearance of shanty towns on the bays and inland lakes. There are some rental options in the U.P., but most anglers set up their own hard shacks or portable shanties. The Michigan Department of Natural Resources requires that you affix your name and address on all sides of any shanty left overnight on the ice. You are also required to remove your shanty by midnight March 31 of any year or when ice conditions become unsafe. Download the Michigan Fishing Guide.
Good luck! Many long-time fishermen swear fish are more flavorful when they are reeled in from chilled waters. Come up and see if you agree!