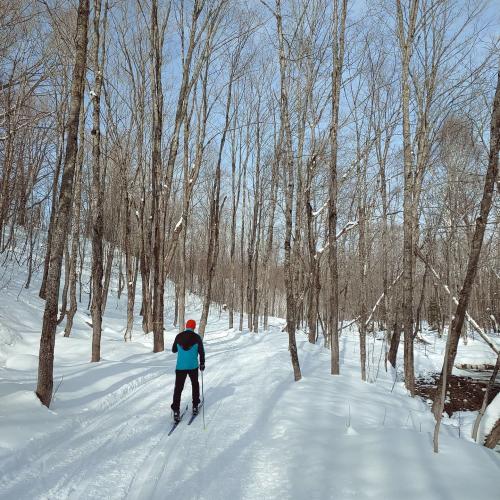 The winter beauty of Michigan's Upper Peninsula is unmatched in the Midwest which makes it the ideal cross-country ski vacation destination. Step into your bindings and within minutes you can explore the vast tranquil wooded areas and sparkling ice-coated Great Lakes shorelines. Ski up next to towering frozen waterfalls and across thousands of smooth snow-blanketed frozen lakes. The Upper Peninsula receives approximately 250 inches of annual snowfall and has a ski season that typically lasts from Thanksgiving through mid-April so make your vacay plans now.
Nordic or XC skiing is an invigorating cardiovascular workout and an excellent way to take in the majestic U.P.'s winter landscape. Cross country skiing can be very exhausting especially if you're trying to go as fast as you can, however, it can also be extremely relaxing and meditative as you glide through the tranquil scenery. The peacefulness can make you forget that you are actually exercising.
For first timers, it is best to learn on well-groomed trails. The advantage of doing this is that densely packed snow will keep you from sinking into deeper, softer snow and make it easier for the skies to glide. Additionally, start with gentle slopes both for learning descending as well as climbing techniques. Overall, other than the occasional fall into the snow cross country skiing is a generally safe winter sport.
Find Equipment Right for your Skill Level
It is important to select boots, skis, and poles that fit properly and meet your skill level. We recommend that you visit one of these specialty shops to insure that you select the right equipment.
Cross Country Sports in Calumet
Bike and Ski in Escanaba
Brampton Bike and Ski in Gladstone
Down Wind Sports in Houghton, Marquette or Munising
P. Sport & Spoke in Iron Mountain
Hobby Wheel in Ironwood
Sports Rack in Marquette
Lake Superior State University Regional Outdoor Center in Sault Ste. Marie
What to Wear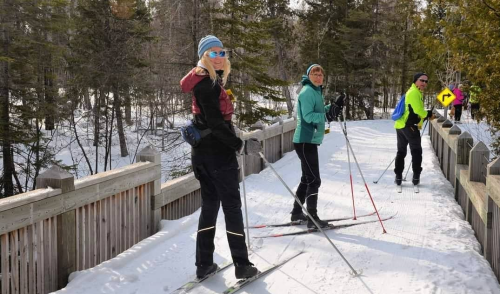 When selecting your clothing, it is critical to dress for the forecasted weather conditions. You should choose breathable clothing that will maximize your mobility on ascents so that you do not sweat too much and at the same time warm enough on the descents to avoid getting cold. Moreover, because the weather can and does change it is wise to dress in layers to give you the flexibility to adjust your comfort.
What to Bring
As a precaution pack snacks, water, cell phone, area and/or trail maps, flashlight, compass, fire starter kit, pocket knife, ski wax, sunscreen, sunglasses and an emergency blanket. Also, for safety and companionship bring a friend; someone to enjoy the experience with and assist if help is needed.
Research Where to Go
Many parks have specific trails for different sports while others have multi-use trails. Further, it is important to be aware that some trails are one-way while others are two-way. Also, be sure to check if the trail or park has a fee for use. It is critical to always avoid trails used by snowmobilers and if you happen to end up on one, remember that snowmobiles have the right-of-way. If there are staff at the trail or park you are going to, it is beneficial to inquire about rules and trail etiquette as well as which trails will best suit your ability.
Places to go
Because of the freedom that this sport affords there are too many options to list. Therefore, here are a few locations that are great for beginners and families looking for relaxing trails suitable for a range of skill levels.
Wolverine Nordic Trails, Ironwood
25K of cross country skiing with trails tailored for different skill levels.
Porcupine Mountains Wilderness State Park, Ontonagon
40K of groomed trails; nearly 145K ungroomed trails. See panoramic vistas of Lake Superior, waterfalls and hemlock glades.
Ski Brule, Iron River
33K groomed wooded and rolling terrain trails with views of the Brule River.
Swedetown Trails, Calumet
35K of groomed ski trails with 4K of lighted trails and also some backcountry opportunities.
Valley Spur, Munising
45K ski wooded trail system that is frequently groomed.
Fayette Historic State Park, Garden
8K of groomed trails through hardwood forests with views of Lake Michigan.
Rapid River National Cross Country Ski Trail
28K, this op-rated trail winds through towering pine-covered ridges and drops into thick lowland swamps. Choose from five classic x-country ski loops and two skate loops.
Algonquin Cross-Country Ski Trail, Sault Ste. Marie
3K of trails that are great for beginners.
Rainbow Trail, Drummond Island
8K, this trail is exclusively for skiing. The seven loops offer options for shorter or extended trips through open spaces and hardwood forests.
After a bit of practice on these trails, you will soon be advancing on to new adventures, blazing a trail of your own and exploring regions seldom seen in the winter.
Don't forget to bring a camera to capture the scenic beauty. Please use #uptravel when you post your photos.