Michigan's Upper Peninsula is one of my favorite places for a winter photography vacation. I could easily spend weeks exploring the beautiful and highly varied ~1,700 miles of scenic sparkling Great Lakes shorelines, numerous frozen waterfalls and pristine forests blanketed in snow. A delightful perk of a winter trip to the Upper Peninsula is that there are fewer visitors so I can spend more time enjoying my favorite spots without worry of impeding other visitors. Even better, in the winter there are so many unique sights that I can capture that visitors during other seasons miss out on. I delight in walking along the lakes, hiking trails and driving down quiet country roads discovering and photographing dramatic landscapes and rare natural phenomena.
Planning a winter photography excursion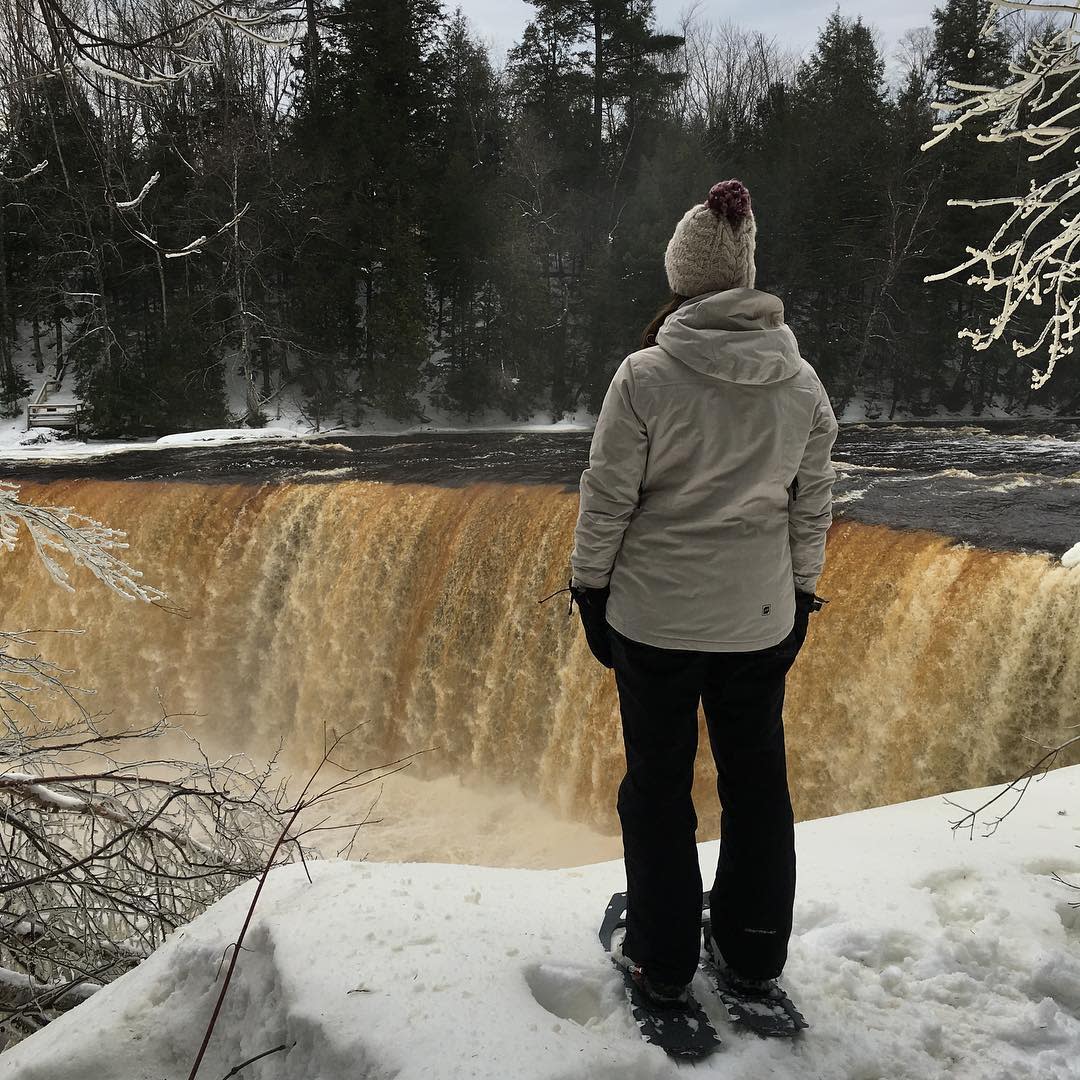 Appropriate Clothing
The most important thing when planning a winter photography excursion is choosing the appropriate clothing and equipment. I generally dress in layers and pack additional clothing in case conditions change or clothing gets wet. On windy days, I wear ski goggles to protect my eyes from blowing snow. Ice cleats or crampons for shoes or boots are a must for many locations, especially along the shores of the Great Lakes. Because many of the best locations for taking photos are remote, it is wise to pack snacks, water, a cell phone, area and/or trail maps, a flashlight, a compass, a fire starter kit, a pocket knife and an emergency blanket.
Camera Equipment
Taking care of your camera equipment in wintery weather is also important. I advise changing lenses minimally — especially if it is snowing hard and or windy — to avoid moisture getting into the camera. Because of this, I will often bring two cameras. One with a wide lens and the other telephoto; my favorite lens choices for this are 16-35mm and 300mm. This way I am prepared to capture both the expanse of a landscape or the fleeting moment that a deer runs through a meadow. Remember to bring a microfiber cloth to clean off any moisture on your lens. I carry extra camera batteries close to my body in my jacket pocket to keep them warm. While walking in icy areas, I keep my cameras in a padded backpack so that I am less likely to damage the cameras if I slip.
Safety First
It is important to think critically about where you are going and how to stay safe. For instance, the Great Lakes and their lighthouses are very popular in the winter but they are often hazardous locations. Piers are frequently icy and uneven, and the ice on the lake is unpredictable, unstable and unsafe. These locations are also difficult for rescuers to reach. The shoreline is the best and safest place to take photos from. For safety and companionship, always bring a friend; someone to enjoy the sights with and assist if help is needed.
Location Scouting
It is important to research the locations that you would like to go to and create a plan. The Upper Peninsula has many seasonal roads; some places may only be accessible by snowmobile, snowshoe or ski. Be sure to set realistic travel goals and give yourself time to enjoy and explore the places that you choose. Create a photo list of images with information like location, approximate travel time, subject matter and preferred time of day, and organize them into daily itineraries to help you prioritize and maximize your time. Be generous in the amount of time you allot to every location. Some of the best photos I have taken were not planned; they were discovered en route to or from a different destination. Keep in mind that the best way to create unique images is to take the time to appreciate the nuances of a place and see compositions that others, who are in a hurry, overlook. If your schedule allows, scout locations and enjoy with your eyes before you create images with your camera.
Northern lights, Milky Way, moon, meteors and more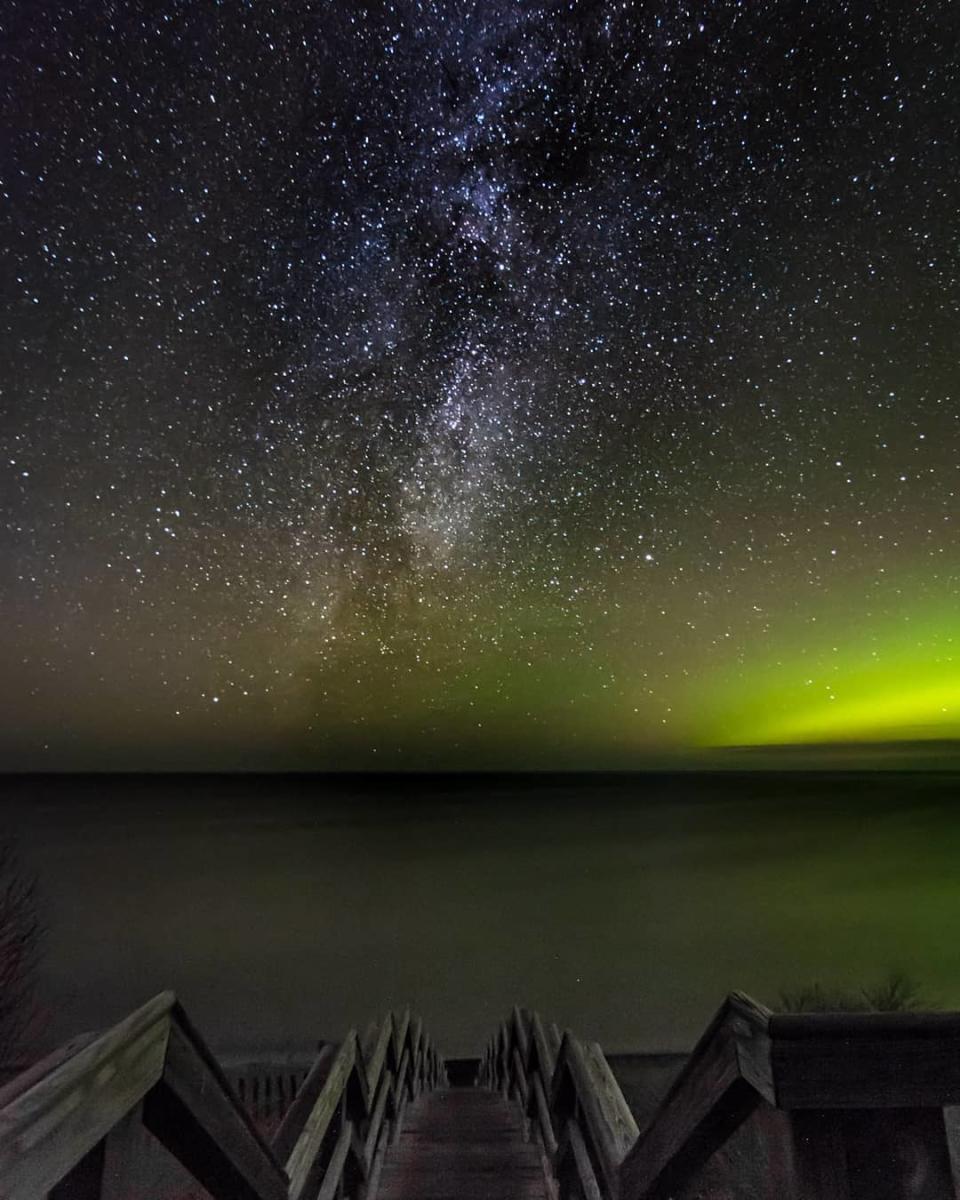 If you are after one-of-a-kind images, plan to stay up late and wake early. Northern lights, Milky Way, moon, meteors and more are all worth a little lack of sleep. Additionally, make good use of blue hour — the hour before sunrise or after sunset. The balance of light and dark and vibrant blue of the sky can improve many landscape photos. Also take advantage of moonlight on the snow, it lights up the landscape, making for much brighter nighttime photos than you would get during other times of the year.
There are so many wonderful photo opportunities in the Upper Peninsula. Below are just a few of my favorite locations and subjects.
Winter Weather
Creates otherworldly scenes along the shores of the Great Lakes:
Piers and lighthouses layered in ice are yearly favorites for photographers. During wind storms, ice piles onto the piers and massive, yet delicate, icicles hang down from the railings and catwalks. It is remarkable how much the ice transforms the appearance of these stalwart structures.
I delight in photographing the massive sheets of ice hanging down from some of the more rocky areas of the shoreline such as Pictured Rocks National Lakeshore and around Grand Island. These are an amazing sight to see from a distance, and at times you can even get up close and walk into the ice caves behind them. There are often beautiful colors as the light glows through the curtains of ice. When the ice is thick and stable, you may also see ice climbers ascending these towering natural structures.
The spray from waves crashing into the rocky shoreline or breakwall at times encases plants and entire trees in clear ice making for a surreal, dazzling landscape.
Look for "ice pancakes," also known as "ice pans" or "ice lily pads." These occur when the surface of lakes and rivers freeze into sheets which are broken up by the movement of the water (waves or current). As they move and repeatedly bump and rub against each other, they become rounded with raised slushy edges.
"Ice balls" or "ice eggs" are a fascinating phenomenon that occasionally occurs along beaches. Chunks of ice in shallow water slosh back and forth. As they roll around, layer upon layer of ice is added giving them their spherical shape.
"Ice mountains" and "ice volcanoes" occur when waves build up piles of ice along the lakeshore. The crashing waves can create tunnels up through the ice, and, as the waves crash, they look like small volcanoes erupting with water and chunks of ice.
If there is not too much lake ice, you may see surfers out on the lakes. Winter is a great time for surfing the great lakes and surfers take advantage of the prevailing winter winds.
The lakeshores are dazzling but inland you can also find amazing photo opportunities.
Frozen waterfalls are awe inspiring. The way that the falling water freezes into towering columns is hard to describe in words and truly must be witnessed in person. The fact that the force of a river can appear to be frozen solid is truly remarkable. If you listen while you are there, you may be able to hear water still falling inside of the ice. Check out these eight winter waterfall locations.
Kitch-iti-kipi, Michigan's largest natural freshwater spring, is even more stunning when lined with snow covered trees.
Eben Ice Caves are similar to the large ice formations around Grand Island but small and on land. Though they are smaller, they are easier and safer to access, and quite stunning in their own right.
Small towns after a new snowfall have a nostalgic and romantic look especially if they are lined with light poles.
Birds, deer, foxes and other animals contrast wonderfully with the white snow.
Snow covered barns make for classic images.
Snow laden trees along the banks of a river or inland lake are a favorite subject of mine. Also a single tree in a field can make for a beautiful image.
If you have a macro lens or filter, you can enjoy the intricacies of snowflakes and frost.
The photo opportunities do not stop even as the ice and snow begin to melt.
As the frozen waterfall and ice caves begin to fall apart, they are still dazzling. As the water begins to flow and fall again, consider taking long exposure photos to capture the movement of the water and the way it splashes against the remaining ice.
There is a surprising amount of sand that gets mixed into the Great Lakes' shoreline as the crashing waves build up the ice. As it melts, it creates layers of sand making very abstract and otherworldly scenes of brown and white mounds of ice.
On windy days, look for icebergs and, at times, massive sheets of ice moving across the Great Lakes.
Ice dams and ice flows can create sparkling piles of jagged ice. If you happen to see one starting to occur, it is an impressive show of the water's power.
As the temperature starts to rise, take advantage of the fog that sometimes occurs. Some days, there are low layers of fog with sun shining above which can create a very surreal landscape. If you are lucky, you may also be able to capture a wall of fog moving in toward land from one of the Great Lakes.
While out taking photos, be respectful of private property and protected areas. Stay in designated walkways if applicable. Strive to take amazing images while preserving the locations for future visitors and photographers.
Dress warm, be safe, take and post a lot of photos, and be sure to hashtag yours with #uptravel on social media.